< Back to blog
A Guide To Bankruptcy And How Long It Stays On Your Credit Report
July 11, 2022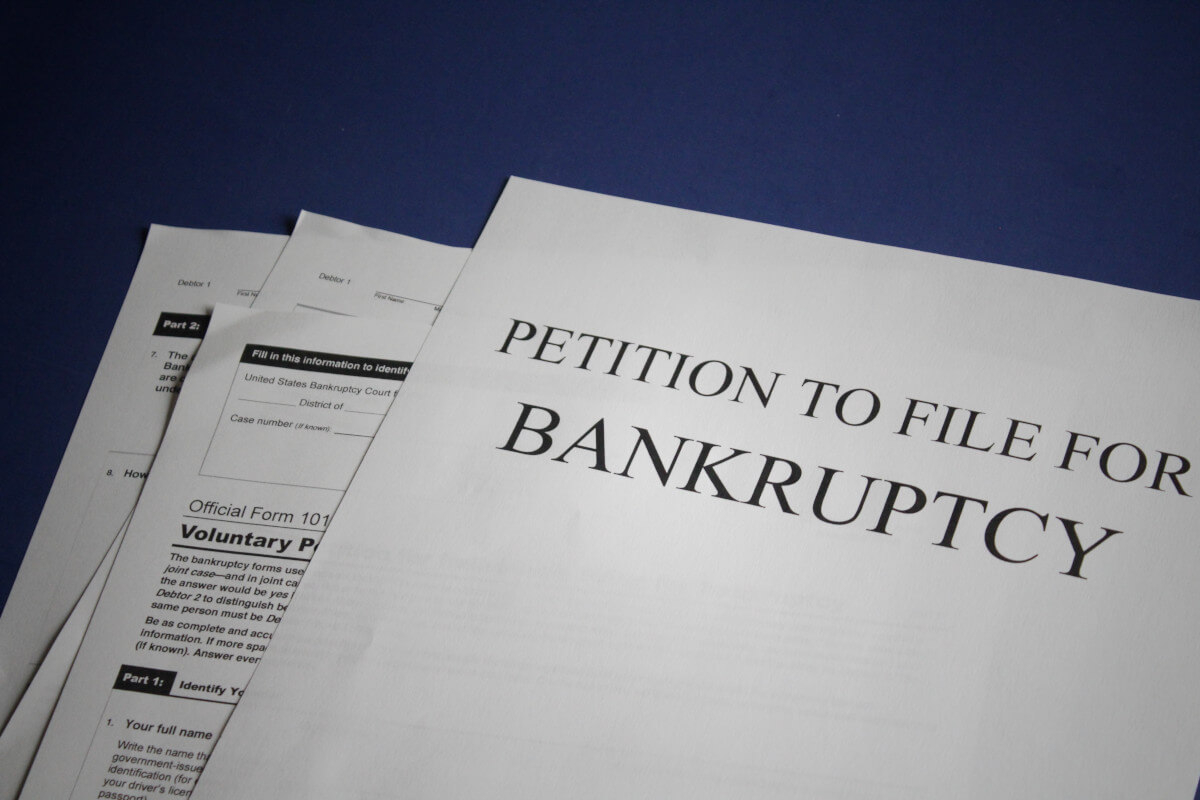 In recent articles, we've covered insolvency in great detail, but what is bankruptcy and is it any different?
The bankruptcy rate in the UK had been increasing steadily in recent years. However, this trend reversed in 2020.
This change in trend has primarily been attributed to temporary financial measures implemented by the government due to COVID-19, which were lifted in September 2021.
So, what is bankruptcy exactly? We'll answer that shortly.
In this article, we'll also cover other frequently asked questions, including:
What happens when you declare bankruptcy?
How long does bankruptcy stay on your credit report in the UK?
There are several implications when you go bankrupt, so before it comes to this, we'd recommend seeking debt advice from an expert as soon as possible.
What is bankruptcy?
In the UK, bankruptcy technically refers to when an individual, or partners, have debts they are unable to repay.
In other words, it's when a person, rather than a company, is insolvent.
This can cause some confusion as, colloquially, bankruptcy is often used as a term to describe when a company is insolvent too, particularly in the media.
This is likely due to the fact that in the US, bankruptcy commonly refers to both insolvent firms and individuals.
It's important to note that, in the UK at least, only individuals (or partners) can file for bankruptcy.
Should a company become insolvent, it must follow different procedures and find alternative insolvency measures.
Common alternatives include:
If you're an individual looking to file for bankruptcy and don't know where to start, then read our previous blog Filing For Bankruptcy: How To Declare Bankruptcy in England.
As with insolvency in the UK, personal bankruptcy laws originate from the Insolvency Act 1986.
Voluntarily applying for bankruptcy when you cannot pay your debts is the most responsible action and gives you more control over what happens next.
Bankruptcy is an option in one of three instances:
When you self-declare bankruptcy as you can't pay your debts
When your creditors apply to have you made bankrupt as you have debts to them exceeding £5,000
You break the terms of an IVA (Individual Voluntary Arrangement)
Generally seen as the last option, bankruptcy can have a seriously detrimental effect, not only on your credit rating but also on your personal life as well.
Bank account closures are just one example of how things can be made more difficult as a result of filing for bankruptcy.
As drastic as it seems, though, it does enable the filing party to make something of a fresh start, clear from their debts.
What does bankruptcy cost in the UK?
To apply for bankruptcy, there's a form to fill in online and a fee to pay - £680, including a £550 deposit and £130 application fee.
What happens when you declare bankruptcy?
Once an Insolvency Service adjudicator decides an individual should be made bankrupt, they're issued a bankruptcy order.
Then, an official receiver follows up. The official receiver may demand an interview session to learn more about the circumstances behind the bankruptcy and work out the next steps.
Here's what happens after declaring bankruptcy:
You can no longer serve as a limited company director or shadow director
Your details will be published in the Individual Insolvency Register, which can be searched by the public
Your bank accounts are frozen
If you borrow more than £500, you must inform the lender about the bankruptcy
Your assets can be seized and used to repay your debts
There are several other bankruptcy restrictions too.
Usually, bankruptcies are discharged after 12 months, releasing individuals from the debts and restrictions.
However, repayment contributions to creditors from seized assets can last three years.
Anyone who subsequently becomes able to repay all their debts may then apply to cancel the bankruptcy. Taking out an IVA is another way to annul it.
In this case, the annulment can be advertised and the bankruptcy details deleted from the Individual Insolvency Register.
How long does bankruptcy stay on your credit report (UK)?
Although you'll usually be 'freed' from your bankruptcy 12 months after its commencement, bankruptcy appears on credit reports for six years in the UK.
Before it's wiped off your credit rating, the bankruptcy will be visible to lending companies, mortgage providers, utility suppliers and any other party who might need to access your file from the main credit reference agencies.
This affects an individual's chances of borrowing money. Lenders providing credit will likely do so at a higher interest rate.
Information online about how long bankruptcy remains in your credit history can vary.
If you've seen that it stays on your credit record for seven or 10 years, that's for bankruptcies in the US.
How does bankruptcy affect your credit report and personal life?
Having a bankruptcy on your credit file can make it very difficult for you to take out a loan or get a mortgage.
That's because loan and mortgage providers will see you as more of a risk-laden proposition than somebody who hasn't previously had to file for bankruptcy.
Beyond these more quantitative impacts, the more intangible stresses that filing for bankruptcy places on an individual shouldn't be underestimated either.
These can include dealing with the admin and paperwork through to the mental strain of being unable to take out loans.
What are the alternatives to bankruptcy?
One of the most common ways to avoid filing for bankruptcy is to take out what's known as an Individual Voluntary Agreement (IVA).
These are agreements wherein the debtor agrees with their creditors to pay back the debts they owe.
IVAs don't risk you losing major assets (like your vehicle or home, for instance) in the same way that filing for bankruptcy does.
However, it can take longer to wipe your debts than with bankruptcy.
There are also always less formal options to deal with your financial problems, such as personalised debt management plans.
An expert insolvency practitioner from Hudson Weir can help guide you on how best to chip away at your debt in a way that's practical and affordable.
Unfortunately, of course, there are situations where either an IVA or bankruptcy is a necessity.
What's the difference between bankruptcy and insolvency?
The major difference between the two is that bankruptcy is an explicitly-defined legal process, whereas insolvency is more a description of a situation where you are facing financial difficulty, i.e. where you have debts you can't afford to pay.
The best way to think of it is that all bankruptcies are examples of insolvency, whilst not all insolvency situations are bankruptcies.
The main types of insolvency are bankruptcy, Debt Relief Orders (DROs) and Individual Voluntary Agreements (IVAs).
Summary: What is bankruptcy?
Bankruptcy is when an individual, rather than a company, has debts they can't repay.
A filed bankruptcy will show up on your credit report for 6 years in the UK.
We'd always recommend other options before resorting to bankruptcy given how it can affect your ability to take out loans and apply for credit.
However, if you owe money, feel that you have no other option but to file for bankruptcy and want help with your insolvency, then don't hesitate to get in touch with Hudson Weir.
Our insolvency practitioners deal with both company and personal debt, offering tried-and-trusted alternatives to bankruptcy, such as Company Voluntary Arrangements (CVAs).
Give us a call today on 020 7099 6086, or by emailing us at [email protected]. We look forward to hearing from you.